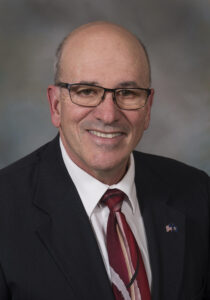 The Northern Grafton County Republican Committee will hold its monthly meeting on Monday, February 14, 2022 at the Littleton Elks Club, Lodge #1831 located at 42 Main Street, Route 302, Bethlehem, NH. Socializing and refreshments will be at 6:00 PM, and the meeting and guest speaker will be at 6:30 PM. NH State Senator Bob Giuda, District 2, will be the guest speaker. Senator Giuda will talk about the 2022 Legislative Update and how people can become involved.
Senator Giuda will instruct people how to use the NH general court website to look up legislation regarding public hearings and other pertinent legislative information. Persons desiring to actively participate may bring their personal computer and log into the WiFi available, and follow along with the visual presentation.
Republicans and Like-Minded Conservatives are Welcome to attend. Interested persons may contact janicenovak@myfairpoint.net. or call 603-823-5011. Keep New Hampshire RED!